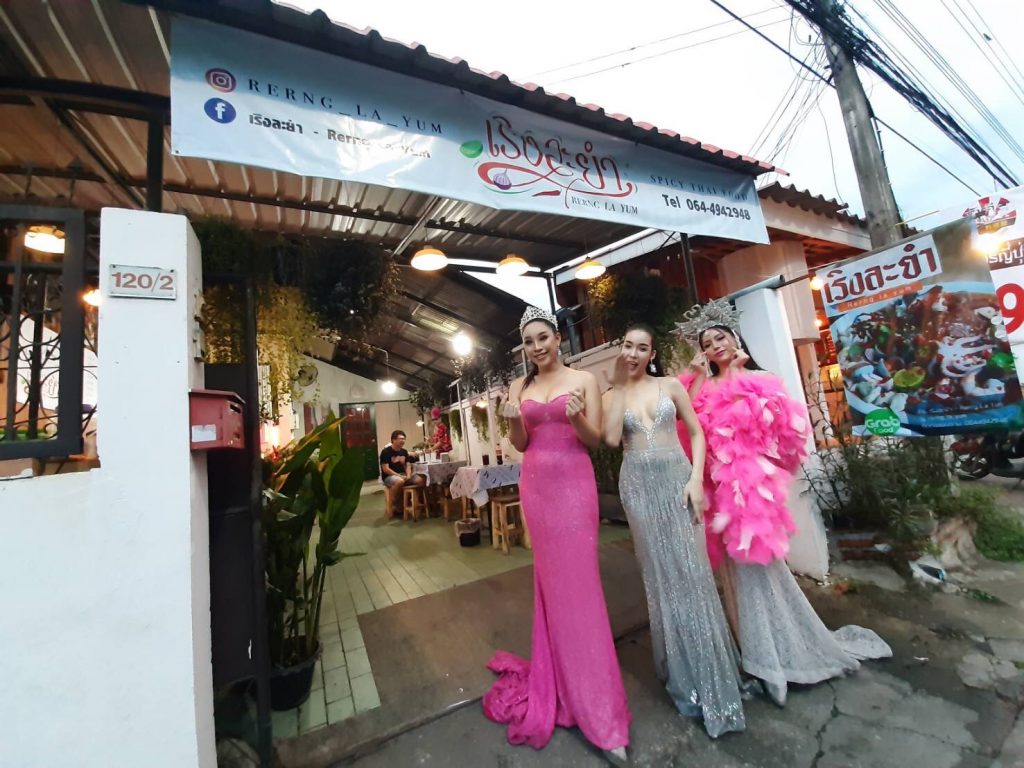 Many in Chiang Mai's transgender show girl community have been without a living for four months now and while they are able to start work, with no tourists arriving, many are resigning themselves to seeking opportunities elsewhere.
A group of transgender cabaret girls have therefore come together to start up a 'yam' or spicy salad restaurant.
Though we are now in phase 5 of the easing of restrictions with bars and pubs opening for the first time last night, business will still be very tough to many.
Rerng La Yam is a spicy little venue down the Rajamangala University Technology of Lanna (Jed Yod) where beautifully dressed temporarily retired cabaret ladies cook, servec and entertain. This location has long been a home where many transgendered cabaret workers live, and they have now turned it into a restaurant.
Initially open as a food delivery service over the quarantine period, the restaurant is now fully functioning and open daily (except for Thursdays) from noon to nine each night with all sorts of spicy salad dishes starting at a humble 40 baht each.
Manfah Sukprakob, 26, one of the restaurant's shareholders said, "Having not worked for four months, we just pooled all of our remaining money together to make this venture work. We need to feed ourselves and we don't see how we are going to get back to earning our living anytime soon. We began to dress up in full cabaret on Fridays to Sundays and even put on a show or two but were asked by authorities to stop, so now we just dress up and serve. We want to get back to doing what we love the most, and that is performing, but we have to survive until then. We welcome anyone to come and enjoy our food and get to know us and help support us through this."