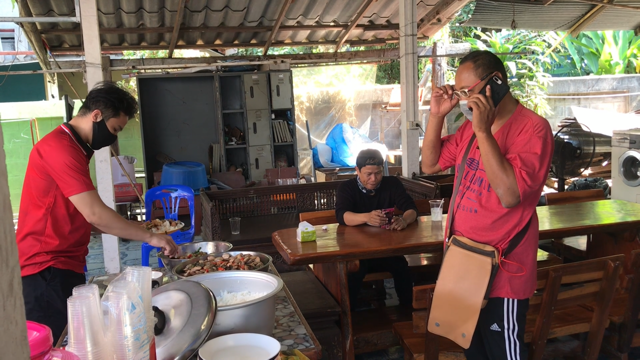 Following news that all nighttime entertainment venues have been asked to shut down as of today for 14 days, there are growing concerns for the wellbeing of the thousands of employees of these venues.
Somtam Priew Pak in Santitham is just one of many local businesses who have begun to serve free food aimed at "singers, waiters, cleaners and all employees of these venues who will have no income for the next few weeks," said the restaurant's owner, Auntie Od, 46.
Pa Od has run her somtam business for seven years and says that over the first lockdown she also gave away food to those who needed it. She says that she anticipates a lot of needs in the coming weeks and hopes to be able to help.
Pa Od says that she has been in the entertainment and food industry for 14 years and fully empathises with servers, DJs, bartenders, singers and musicians, who appear to be the first to be affected by the lockdowns.
She is offering two meals per day – noon to 2pm and 6pm-8pm daily to this group of people, pledging to do so for the next 14 days.
She says that she is using all of the profits she has accumulated over the years from the patronage of these very people to help them during their times of challenge. She will be making two to three dishes per day and hopes to be able to cater to 200 people per day, costing her between 2,000-3,000 baht per day.
"I play at folk music at many pubs across the city," said Komkritch Chuinthi, 30, who says that his income has never been stable, normally earning 300-600 baht per gig. "With that I have to support two children and a wife who live in a different province. I can not be more grateful for people like Pa Od. All I want to do is work to support my family, but I can't do that now."