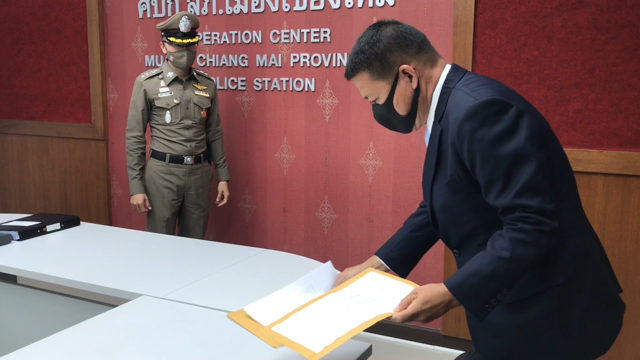 Aphiwat Kanthong, assistant director of minister of the Prime Minister's Office in his role as private lawyer, has filed a report to Chiang Mai police against Anon Nampa, the recently jailed human rights lawyer and activist who gave a talk in Chiang Mai this past weekend.
Aphiwat has accused Anon for organising a public meeting which has insulted the monarchy in accordance to section 6 of the emergency decree which bans public gatherings and also for violating sections 116 and 125 under the criminal law which concerns public disturbance and breach of peace. In his powerful August 9th speech to a packed Tha Pae Gate, Anon talked of royal power laws that affects Thai people, urging Thailand to amend its lese majeste laws to be more in line with democracy. According to Aphiwat, "Anon violated the revered institution of the monarchy, spoken out of turn, obfuscated the truth, insulated, provoked and created public disharmony and chaos amongst the public causing damage to the respect towards the monarchy."
He went on to say that Anon, who was recently released on 100,000 baht bail with conditions had violated his bail parameters.
While His Majesty King Vajiralongkorn has instructed authorities to refrain from pressing royal defamation charges against members of the public through use of Article 112 in the Penal Codes, Prime Minister Prayut Chan-O-cha has repeatedly warned the public not to take advantage or abuse this clemency.
"Instead of being grateful to His Majesty," said Aphiwat, "he continues to abuse his privileges in unacceptable ways."
Police say that following the August 9th meeting, they had collected all evidence and data and sent to the national police headquarters.