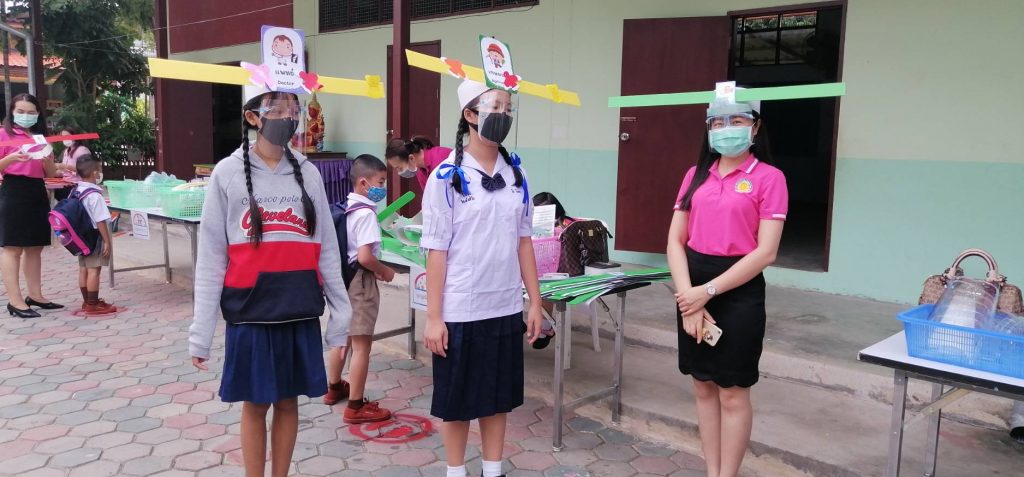 As schools across Thailand reopened on 1st July, one school in Sansai is making a name for itself for innovation, humour and responsibility.
Ban Pa Mua school in Sansai's Pa Pai sub district has put in safety protocols for all students starting with compulsory mask-wearing, social distancing, sanitisers, temperature checks, and all that before entering the school.
Once in the school each teacher will hand over and put on a social distancing hat on all students which mark a 1 metre radius when standing next to another hat wearer.
School Principal Chaiyo Yasamut said, 'We teach from kindergarden to prathom levels and we want all parents to feel confident in their child's safety while with us. With help from some volunteers and the Sansai police we have designed and distributed these hats which aim to be funny and lessen social stress of social distancing for children. Hats come in many colours and children can have fun playing with them while staying safe. The hats are also there are as a gentle reminder that we are in abnormal times and will help kids auto adjust distances. And lastly the hats are educational as we write big words, in Thai and English, on them so kids can learn them as they social distance and play."