CityNews – 30th October 2019,Pol. Lt. Col. Samphan Yothin of Mae Ai police station, received a report from villagers in Moo 12, Tambon Tha Ton, Mae Ai District, Chiang Mai, that a man was stung to death by a swarm of wasps two days prior but rescue workers were unable to remove his body as the wasps were still present.
Pol. Lt. Col. Samphan told media that when he and his team arrived, they found the swollen body covered with bruises.  The man was later identified as Sanchai Phao-arun, a 58 year old, from the area.  He was a volunteer guide for jungle trekking tours.
It was later discovered that Sanchai had taken a couple into the jungle for a trek and that he must have disturbed a wasp's nest, leading to the attack. The two tourists managed to escape with some stings, but it is believed that Sanchai may have tripped and fallen, his body unable to resist the strong stings once the attack begun.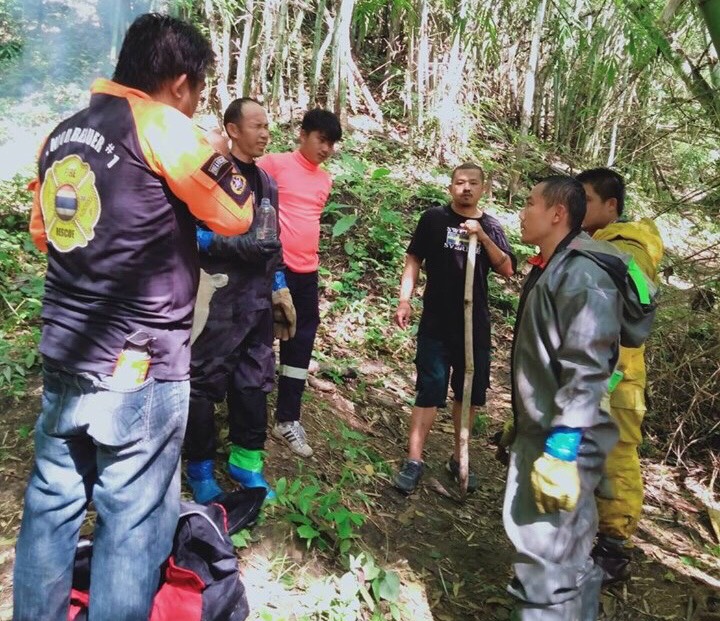 Local villagers had helped the tourist couple by taking them to the hospital for treatment and attempted to recover the guide's body, but with so many wasps still hovering around, they retreated. Two days later a rescue team including firemen had to go in to fumigate the area, finally being able to recover the body.
An autopsy was performed and later Sanchai's body was sent to his relatives to perform relevant religious rituals.
Photo credit: rescue team of Tha Ton sub-district administration