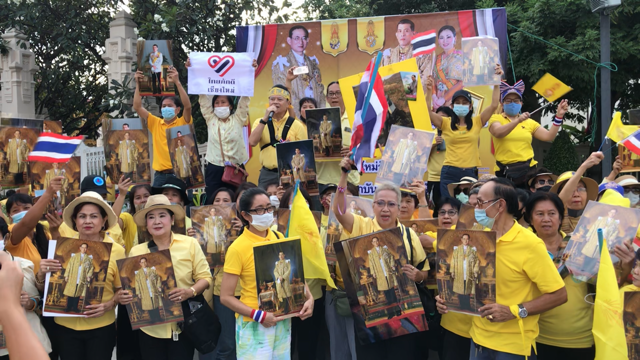 On Friday evening a group of around 500 members of the community group, "Thai Phakdee Chiang Mai" gathered at the Three Kings Monument, wearing yellow shirts, to express their loyalty to the monarchy.
Following months of protests of the current government by students across Chiang Mai, this group said that they felt that they had to come out to peacefully show that they are loyal to the monarchy.
The group sang royal anthems amongst many rousing nationalist songs and talked to the crowd about the importance of the three pillars of Thailand – nation, religion, monarchy.
The gathering was peaceful and there were six demands the group put forth:
1. Protect the institutions of nation, religion and monarchy which has been the Thai way for over 800 years.
2. The Thai Phakdee group stands behind the constitutional monarchy which is suitable for Thailand and is against the system of presidency, confederation or breaking Thailand up. It is not, however, against decentralisation of power.
3. Standing behind developing the nation in a Thai way.
4. The group believes that monopoly capitalist groups are the cause of much of the suffering of Thai people.
5. Supporting the use of technology for all sectors of the Thai economy, including farmers.
6. Not anti foreign investments, but Thailand needs to have strong roots to be able to sustain itself by using the sufficient economy theory which has been proven effective through all crises.
Montri Wongskasem, leader of the Thai Phakdee Chiang Mai group said that the day's activities are to show loyalty to the Chakri Dynasty and to protect the monarchy from those who have insulted them to the point which the group can't bear. He said that he believes that most people agree with his group, but many are too afraid to come out in support.
He went on to say that he wishes the youth would study history more and do some research, not just read what is on social media so they can understand that their parents and grandparents are not stupid, but have lived through many things and have more knowledge than they may think.