CityNews – The statistics are in and Police announce that 2017 has been a safer Songkran for everyone, with ten fewer road accidents and two fewer deaths than 2016.
Over the seven dangerous days of Songkran, Chiang Mai saw 158 road accidents (10 fewer than last year's 168), 164 injuries (11 fewer than last year's 175) and 11 deaths (2 fewer than last year's 13).
Chiang Mai was the most dangerous province again this year, topping the list for most traffic accidents during the seven dangerous days of Songkran. Udon Thani followed with 145 accidents, Phitsanulok with 98, Chiang Rai with 96 and Nakhon Si Thammarat with 90. Chayaphum was bottom of the list with only one accident for the whole seven days.
Out of the 11 deaths, two were children, one aged 16 and the other aged just one year old. The adults were aged between 20 and 76.
Eight deaths were due to drink driving, speeding, not wearing a helmet and/or falling asleep at the wheel. Two were due to not wearing a seat belt at the time of the accident and one was a passenger in the back of a pickup truck.
Nationally, Chiang Mai was the 5th most dangerous province for deaths from road traffic accidents. Nakhon Ratchasima was top of the list with 17 deaths, followed by Chiang Rai with 14. Seven provinces saw no deaths during Songkran, including Mae Hong Son, Amnat Charoen, Phuket and Krabi.
In total, 335 people died from road accidents during the seven dangers days of Songkran.
The police also arrested and/or issued fines to over 31,000 people in regards to major and minor road offences such as drink driving, not wearing a helmet or using a phone while driving.
The official statistics are shown below: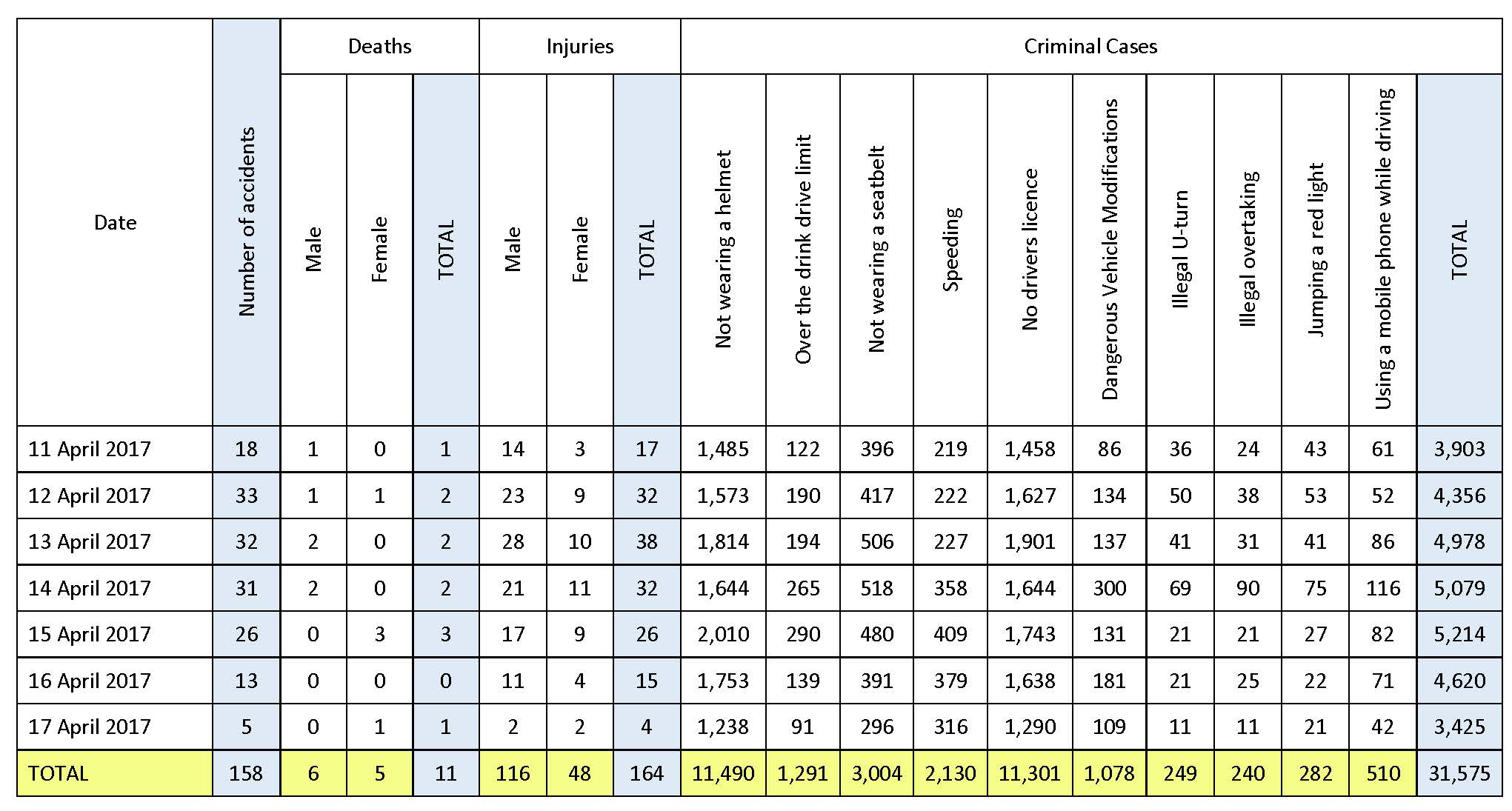 Click to enlarge
Disclaimer: The numbers displayed in this article are subject to change depending on new police information or a re-calculation of official numbers at a later date.