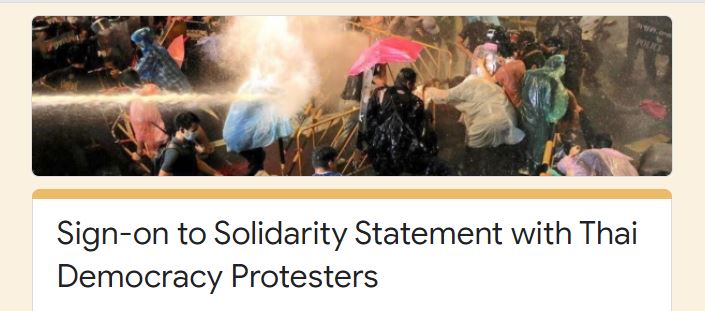 Asia Pacific Forum on Women, Law and Development (APWLD), together with the undersigned organisations, expressed solidarity with the peaceful Thai protesters for participatory democracy in the country.
"We are extremely concerned about the government authorities' excessive and disproportionate use of force and violence against the protesters," said a statement sent to CityNews, "especially against women human rights defenders and student activists as they exercise their constitutional right to freedom of assembly."
"The protests started across Thailand in February when a constitutional court banned the opposition political party.  Soon after, the emergency decree on the COVID-19 pandemic saw the curbing of mass mobilisations. University and school students resumed protesting across the country since 18th July, considered to be the largest protests after the coup in 2014, demanding democratic reform of the country.  These peaceful protests  were met with further suppression of peoples' democratic voices and dissents, leading to judicial harassment and arrests of women human rights defenders and student protesters. As of October 2020, at least 167 protesters were arrested and have been charged with sedition or violation of the continually extended COVID-19 emergency decree. At least five protesters were arrested without charges while high school and university students were also questioned by police for participating in protests.  Watchdog organisation iLaw reported at least 78 incidents of intimidation against protest sympathisers."
"On 15th October Prime Minister Gen. Prayut Chan-o-cha declared a state of emergency in Bangkok, following which riot police used immense and uncalled for force, including  chemical laced water from water cannons against unarmed and peaceful protesters. The protests that gathered tens of thousands of people have been led by young women leaders and women human rights defenders. Issues brought to the fore have expanded to include gender equality and women's human rights highlighting patriarchal oppression manifested in abortion laws, taxes on menstrual products and even sexist gender norms in schools. The protesters plan to continue peaceful assembly despite arrests and crackdown."
"The state of emergency declaration was not necessary as the protest, which was peaceful, does not meet the conditions stipulated in Section 11 of the Emergency Decree on Public Administration in Emergency Situation B.E. 2548; while the use of force and the state of emergency declaration itself were intended to crackdown on democracy protesters.  UN agencies and human rights experts including the Special Rapporteur on the rights to freedom of peaceful assembly and of association expressed concern and are closely monitoring the situation."
"We strongly urge the government of Thailand to:
Immediately repeal the state of emergency and restore participatory democracy in the country.
Stop the attacks against and criminalisation of peaceful protesters and immediately refrain from any use of force and violence against them.
Release all who have been arrested during the peaceful protests including young high school students, university students and Women Human Rights Defenders.
Ensure a democratic space and process especially for young leaders for a more equal, gender-just and democratic future for all Thai people.
Fulfil human rights obligations as a responsible UN member state that ratified the International Covenant on Civil and Political Rights (ICCPR) and the Convention on the Rights of the Child (CRC), and achieve the rights of all persons, including young people and children, to participation, peaceful assembly and freedom of expression, including in peaceful protest.
Click here to sign on to the statement.
Deadline to sign ends on 23rd October 2020
For more information contact us at apwld@apwld.org