CityNews – 14th April 2020, during the daily briefing at the Chiang Mai Provincial Hall today, it was announced that the first patient to die of COVID-19 was a 65 year old woman who passed away last night.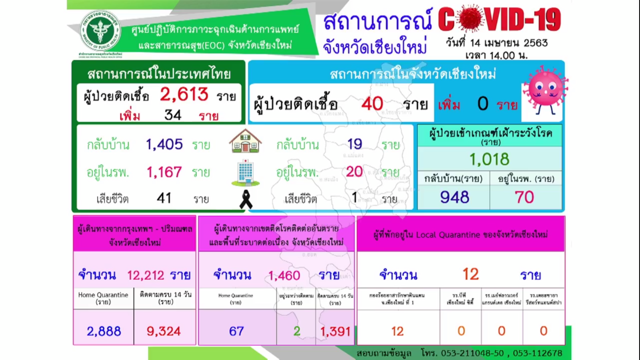 Charoenrit Sanguansat, Governor of Chiang Mai along with Wonchet Taecharak, Director of Nakorn Ping Hospital, both made a joint statement today at the press briefing.
Today has seen the sixth day in row now with no new cases of the virus discovered in Chiang Mai. Unfortunately there has also been a death.
The governor said that because there have been no new cases for nearly a week, authorities are already beginning to discuss how to slowly open up society and relax certain measures. He said that the people of Chiang Mai have followed the government's edicts faithfully and it is this sense of cooperation which has kept the numbers of coronavirus so low. He went on to praise all community leaders at all levels for their hard work and dedication in communicating and stressing the importance of these measures with their communities and villages.
He said that the COVID-19 command centre here in Chiang Mai was already discussing the possibility of easing many measures, should the spread of the virus remain at zero as it appears to be. They are currently finding ways that we can return to normalcy and to work, while also maintaining social distancing and keeping us all safe.
As to the woman who succumbed to the virus, she had her first symptoms on the 15th March. She was already suffering from many illnesses from high blood pressure to last stage kidney failure and was seeking treatment in hospital when she was diagnosed with the COVID-19 virus on the 18th March. Over the past weeks she suffered from pneumonia and was on regular dialysis. Her symptoms got worse last week when she suffered from blood poisoning and other complications and she died last night at 7pm at the hospital.
Her body is being cared for by the public health office who will show her the utter respect, while ensuring that there are no possible contaminations while conducting the religious funeral.