CityNews – 23rd April 2020, The Chiang Mai Restaurant and Bistro Association was formed in February, never expecting to be called upon to help salvage the entire city's restaurant industry just a couple of months later.
"There were always various restaurant associations, café or bar and entertainment venue associations," said Tanit Choonsang owner of Good View Village and Good View All Day restaurants and also president of the Chiang Mai Restaurant and Bistro Association. "So we decided to bring them all together – bars, cafes, bistros, catering businesses – and form one association. I never expected to be spending the next few months sitting in meetings with the governor and government officials working on this crisis. But that is what we have been doing the past few weeks, we have to talk to the public health office about future guidelines as to how to operate, talk to the labour office about helping out our staff, talk to the social security office about compensation, talk to the chamber of commerce about the economy and the governor's office about the various aspects of the impact on our industry."
According to Tanit, there are 12,800 restaurants in Chiang Mai province. "Their doors are all closed now," he said. "We are talking about five star restaurants, noodle shops, mum and pop shops, bakeries, noodle shops. Think about it, let's just say that the average income for a small restaurant would be 5,000 baht per day. This is a very low average across the industry, but the potential loss is around 65 million baht a day. Then you think of the employees, which we calculate to be around 65,000 people working directly in the industry. I think we have made a two billion baht loss since the closure on the 18th March."
"While many restaurants are now doing delivery, and some are doing extraordinarily well, most are barely covering their costs. We estimate that they are down by 70-80%, even if they are doing home delivery. It just isn't the same. If you sit in a restaurant, you can keep ordering, maybe another drink, another dish. But for home delivery you order one or two dishes and that is it. So of course that is going to affect the bottom line."
The association currently has 500 members, most of whom are facing an uncertain future.
"The successful or big businesses will likely survive," added Tanit. "They will have assets they can leverage, they can get loans and they may even have some cash reserves. The smaller mum and pop shops will also likely survive because most are family run and have low overheads. It is the middle group of businesses, small entrepreneurs, startups, business which have traditionally run on month by month cash flow. At the end of the day we are all in crisis and there isn't much that the association can do to help its more at risk members. So what we do is we provide information as to rights, law, privileges and any access to support and funds. For instance the government is offering courses for laid off staff for free. So they can learn Chinese, accounting, barista skills or even how to make cocktails. If employees take this time to upskill for free, then they have a better prospect when things open up again."
"I have no idea what the future will look like," said Wamin Prakobsuk, managing director of Tha Chang Café, a wildly popular entertainment venue, which employed 300 staff. "We can't pay our staff at all now as there is no income. So what we do is try to feed them."
Wamin launched Ma Lek a LINE-based home delivery system a few months back, aiming to offer his staff some extra income. "Food Panda, Grab, Line Man, these companies charge maybe 30% on top of the food prices, putting that burden on the customer. But I didn't need that, I just wanted my staff to earn more money, so we have ten staff who delivery food at cost to our customers, our delivery staff setting the price for delivery and we taking nothing. Ma Lek has come in very handy at this time and we now have a dozen or so affiliate restaurants joining us. If you are at home for months on end you cant afford to be spending hundreds of baht a day on food delivery. Ours is a very affordable option, so we are hoping to expand that to help our members in the association."
"So far we have been in many talks with government officials and have set some tentative guidelines for our associate restaurant businesses to follow," said Wamin of the attached guidelines.
"To start off we are going to look at our risk factor. Some enterprises, such as night places and pubs, are going to be more problematic. Pure restaurants will open first for sure, and those which are both restaurants and bars may only open the restaurant side at first. We will take our cues from the public health office."
"Everything has changed. Forever," said Wamin. "COVID is here to stay and we have to learn to live with it. I can't even anticipate the repercussions, but I do know that our behaviour will change forever."
"I think that some things will remain the same," added Tanit. "After all we are Thai people, and eating together is ingrained in our culture. We just have to be cautious and sensible."
"Future proofing is key," said Lanna Commins of Huan Soontaree, a 300-seat riverside restaurant. "Post corona things will never be normal again, so you just have to invest and utilise data and guidelines from public health authorities to position your business in a way which is flexible and allows for quick change. As we scale back, we are going to have to be smarter with our use of digital technology."
The association and Ma Lek are still in Thai and there is no English language information at this time, but if you can read Thai then please visit the association here.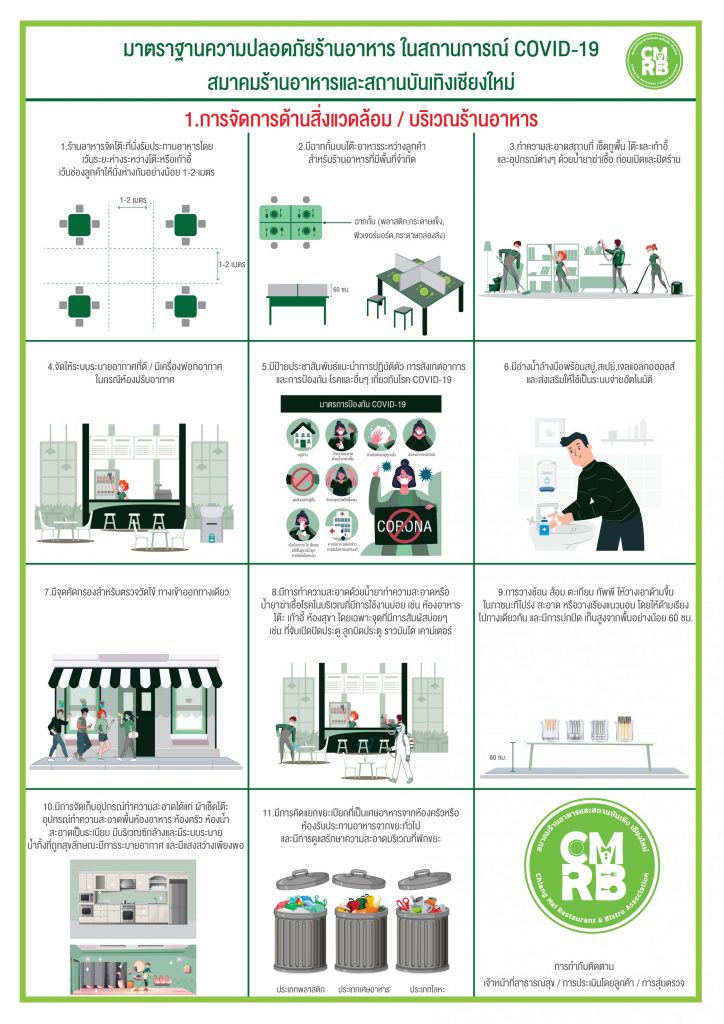 Set tables at least 1-2 metres apart
Have screen to separate diners from one another
Use high performance cleaning solutions to thoroughly cleanse restaurant before each opening
Have good ventilation and air purifiers
Provide COVID-related notice board
Provide cleaning stations, sanitisers and auto dispensing soaps
Set up a temperature check point
Use high performance cleaning solutions on all surfaces regularly
Keep all utensils in a container with handles facing up, have them at least 60 cms above the floor and cover them
Arrange all cleaning stations to be bright, light, airy, orderly and clean
Separate and maintain hygiene standards of garbage
Check temperature of staff, customers and anyone else who comes into contact with business
Provide hand sanitising station before entering business
Limit number of customers and space them appropriately
Prepare all ingredients to highest standards of hygiene
Prepare and sanitise personal sets of crockery, glassware and cutlery for each guest
Clean menu after each customer, or use modern technology or a board on the wall as menu
Provide cashless payment options such as QR Code
Provide socially distanced food pick-up area
Record personal details of customers and/or install CCTV
Provide more channels online to purchase food
Separate pick up and home delivery areas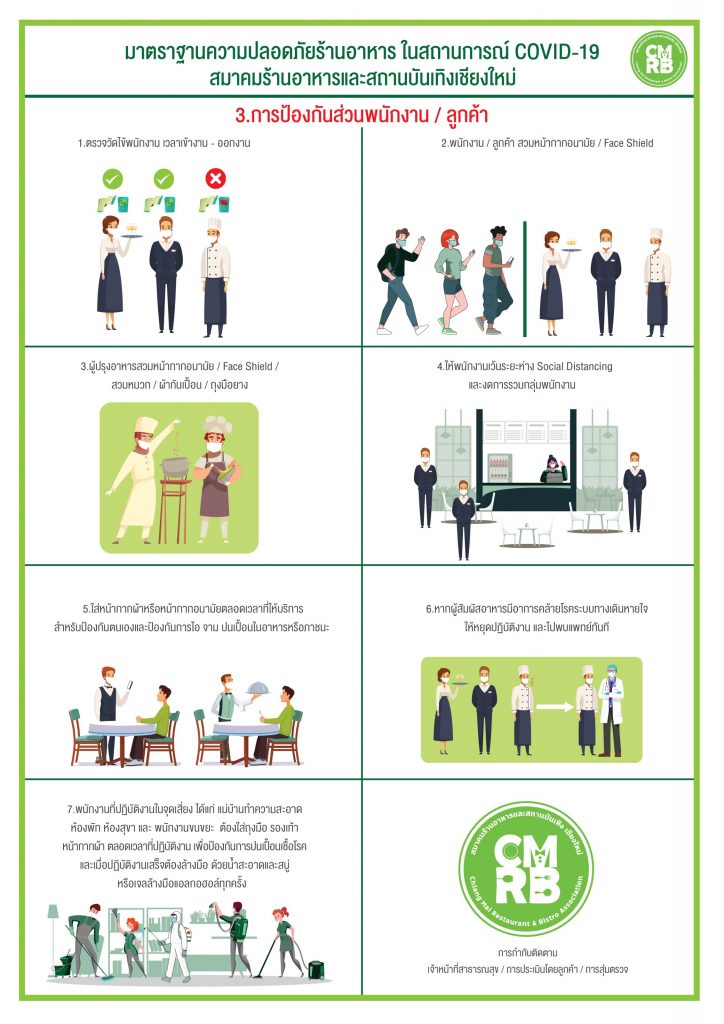 Check temperatures of staff at start and end of shift
Facemasks or shields for staff and customers
Kitchen staff all wear masks/shields and gloves
Social distancing for all staff
Serving staff all wear masks/shields
At first sign of symptoms to go straight to doctor
Cleaning staff to wear protective gear at all times and wash regularly