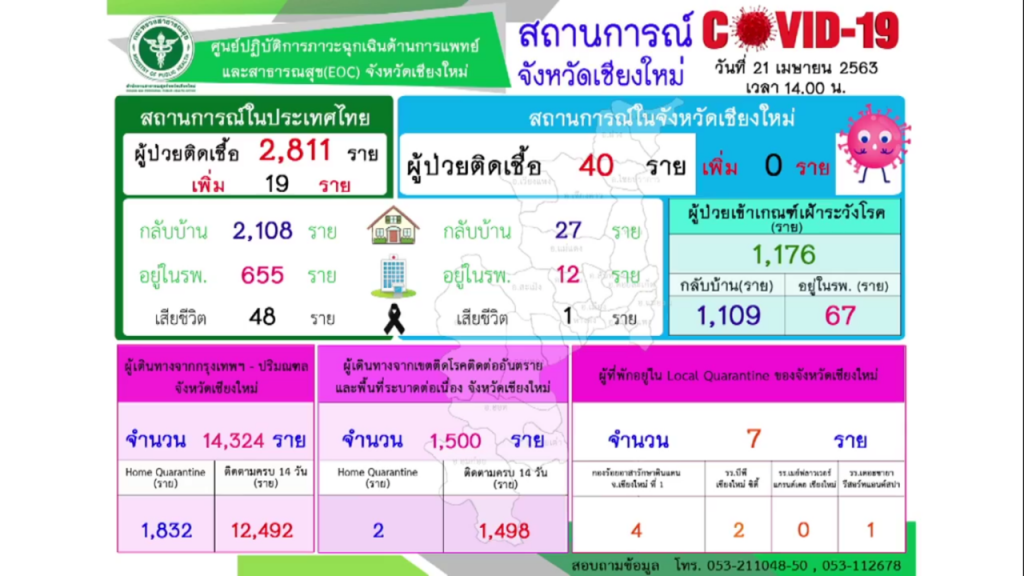 CityNews – 21st April 2020, Dr. Charnchai Pojamarnwibudh, deputy director of Nakorn Ping Hospital announced at today's briefing that across Thailand there have only been 19 new cases as of yesterday, bringing the national tally to 2,811. There has been one more death, however, which means that a total of 48 people have died since the arrival of the virus. Currently there are 655 patients still in hospital across the country, with 2,180 having returned home.

As to Chiang Mai, we have seen no new cases for 13 days now. If we reach tomorrow with no new cases then we can consider this a victory as it is a target we have aimed to reach.
There are still 12 patients in hospitals in Chiang Mai, with one patient with the virus who succumbed to her other ailments last week. Twenty seven have gone home.
While this is a victory of sorts, said the doctor, this does not mean that there will be any immediate lessening of measures taken so far. Social distancing is still key as are all the other new normal we are living with such as frequently washing hands and wearing masks.
This is still a global crisis and we do not want to see the return of the virus to Chiang Mai, continued the doctor. He therefore asks the patience of everyone to please follow announcements from the COVID centre daily and in the meanwhile to stay home and stay safe.