Shangri-La Hotel Chiang Mai continues to take us on a culinary journey unlike any other we have experienced in the northern city. Over the past year or so, Executive Chef Paolo Pelosi, who has many chef friends around the world helming Michelin-starred kitchens, has been hosting a series of events featuring these formidable guest chefs, to great acclaim amongst Chiang Mai's foodies.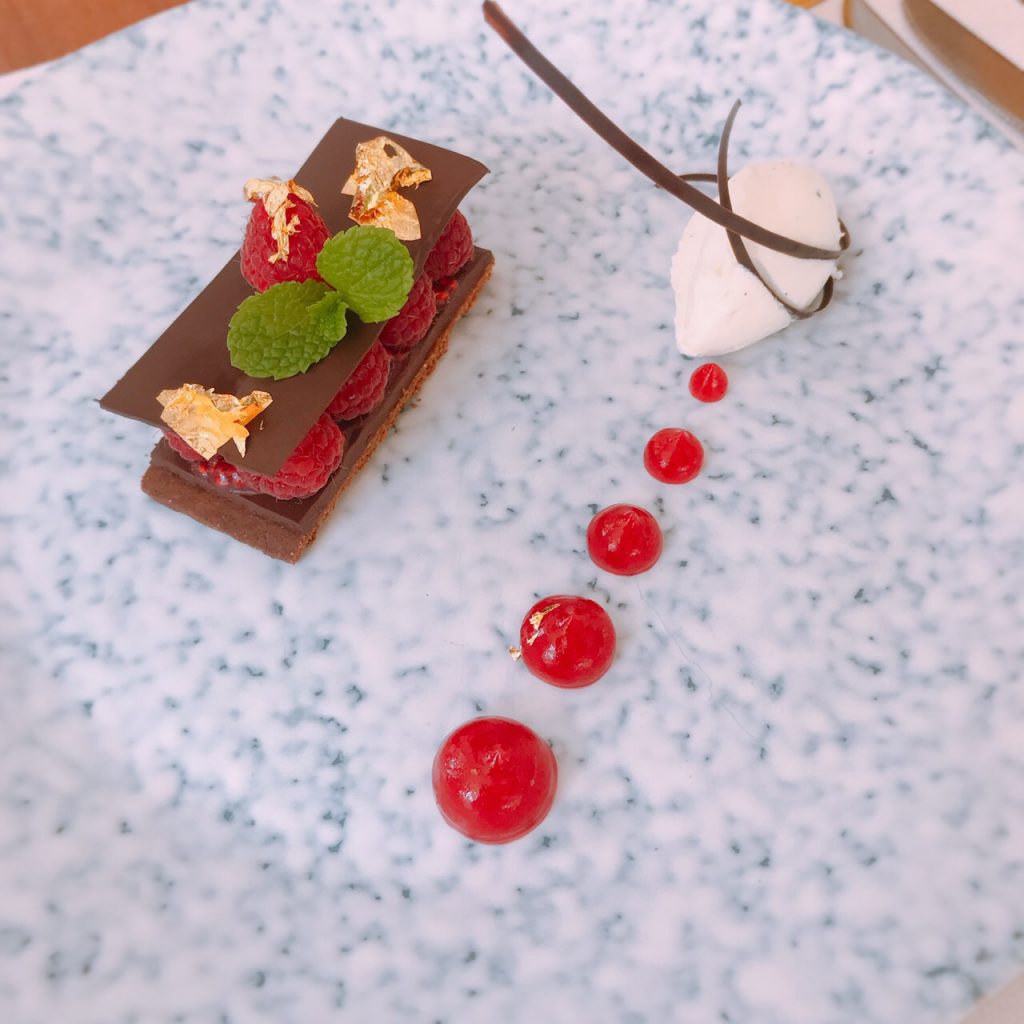 Just this year alone we have tasted two fantastic dining events, the first by Chef Marco Stabile from Florence's famous one-Michelin starred restaurant Ora d'Aria and most recently a sumptuous feast by a true master, Chef Gaetano Trovato from two-Michelin starred Ristorante Arnolfo which sits just outside of Florence.
Each guest chef arrived in Chiang Mai with a preconceived menu, tasking Chef Paolo's kitchen team with sourcing the best of local products, while bringing in such rarities as premium olive oils and other special treats. The chefs then spent some time themselves exploring Chiang Mai's farms, familiarising themselves with our produce, working with the Shangri-La kitchen team, before serving up a menu unlike any we have seen before.
Our next treat, however, comes from Chef Paolo himself, as he takes the helm of Shangri-La's Dhala Restaurant for a Paolo's Spring Garden dining event, which will be a celebration of spring in Italy.
"Paolo's Spring Garden is a celebration of the garden from my childhood. After long winter days spring arrives fast, bursting out in a riot of colourful flowers and vegetation," explained Chef Paolo. "This is the time we used to gather and harvest buds, new leaves, young vegetables, fresh fruits and all the other natural offerings that spring brings. We don't have spring here in Chiang Mai, and I want our diners to experience its exuberance and abundance. I call it a 'Spring Garden', because all the produces that I will use will reflect what the spring season in Italy would offer to a farmer or chef during this period. It would be like for me to go out of the kitchen, harvest the spring delicacies and create a composition for our guests."
Chef Paolo has spent his life in the kitchen, since his childhood playing under the kitchen table while his parents prepared their weekend feasts. With decades of experience under his belt, he will be showing off his culinary chops with a bright and lively spring feast. His inspiration, he says, has always been the produce, allowing the freshest and best the markets have to offer to be his muse as he does what he loves best – cooking modern Italian cuisine.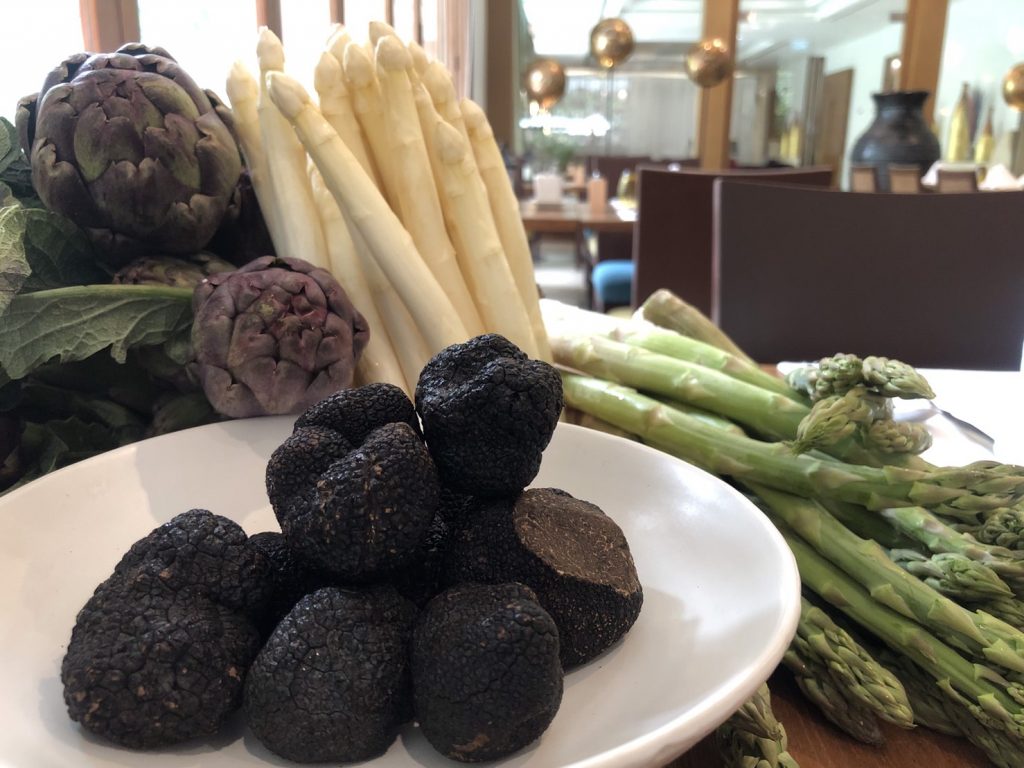 "I want diners to come here and experience what we would in Italy during the spring time," explained Chef Paolo who went on to tantalise our taste buds with a description of what was to come. "The specials or highlights of this event are many, starting with artichoke, white asparagus, green asparagus, black truffle from Périgord, broad beans, and spring green peas. Those are only the vegetables, on the other side we will have line-caught wild seabass, fresh scallops, brown crab – all from the Mediterranean – and more to come. In this menu I also want to introduce the fresh raspberry being grown in Samoeng that I will use for the dessert with an organic chocolate, also from Chiang Mai."
As Shangri-La continues to lead the charge on fine dining events here in Chiang Mai, the hotel's resident sommelier, Chiang Mai's one and only Pakpoom 'Ton' Towatcharakun, has just been chosen to represent Thailand in the world's best sommelier contest organised by Association de la Sommelier Internationale-ASI later this month. It is one of the most difficult challenges in the world of wine. Before heading off to fame and glory, Pakpoom has selected a paring menu to complement Chef Paolo's Spring Garden that we can't wait to explore. Spring is in the air!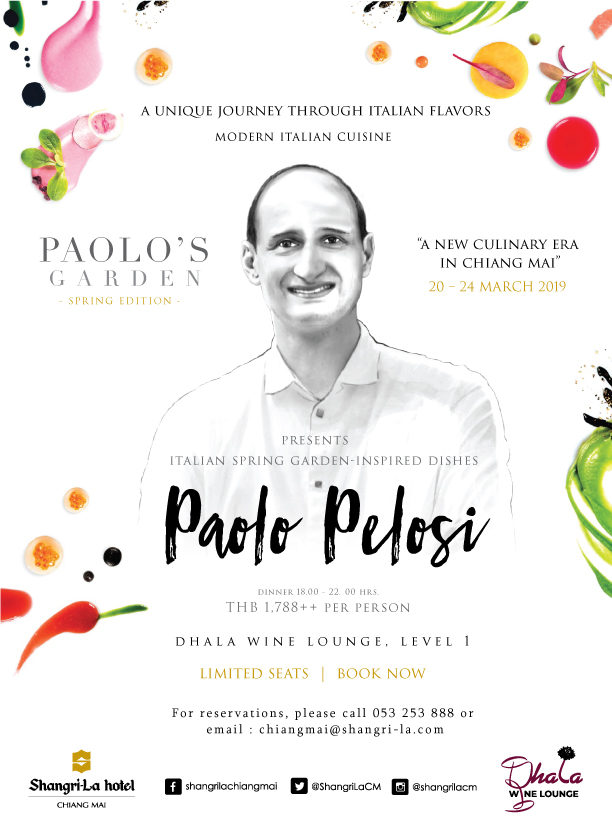 Chef Paolo's Spring Garden dining event will be presented through 4 and 6 course menus.
20-24 March 2019
Lunch: 11.30 – 14.30 hrs.
THB 1288++ per person
Dinner: 18.00 -22.00 hrs.
THB 1788++ per person
Dhala Wine Lounge, Level 1
Limited seats available. Book now! Shangri-La Hotel, Chiang Mai
For reservations, please call (053) 253 888.